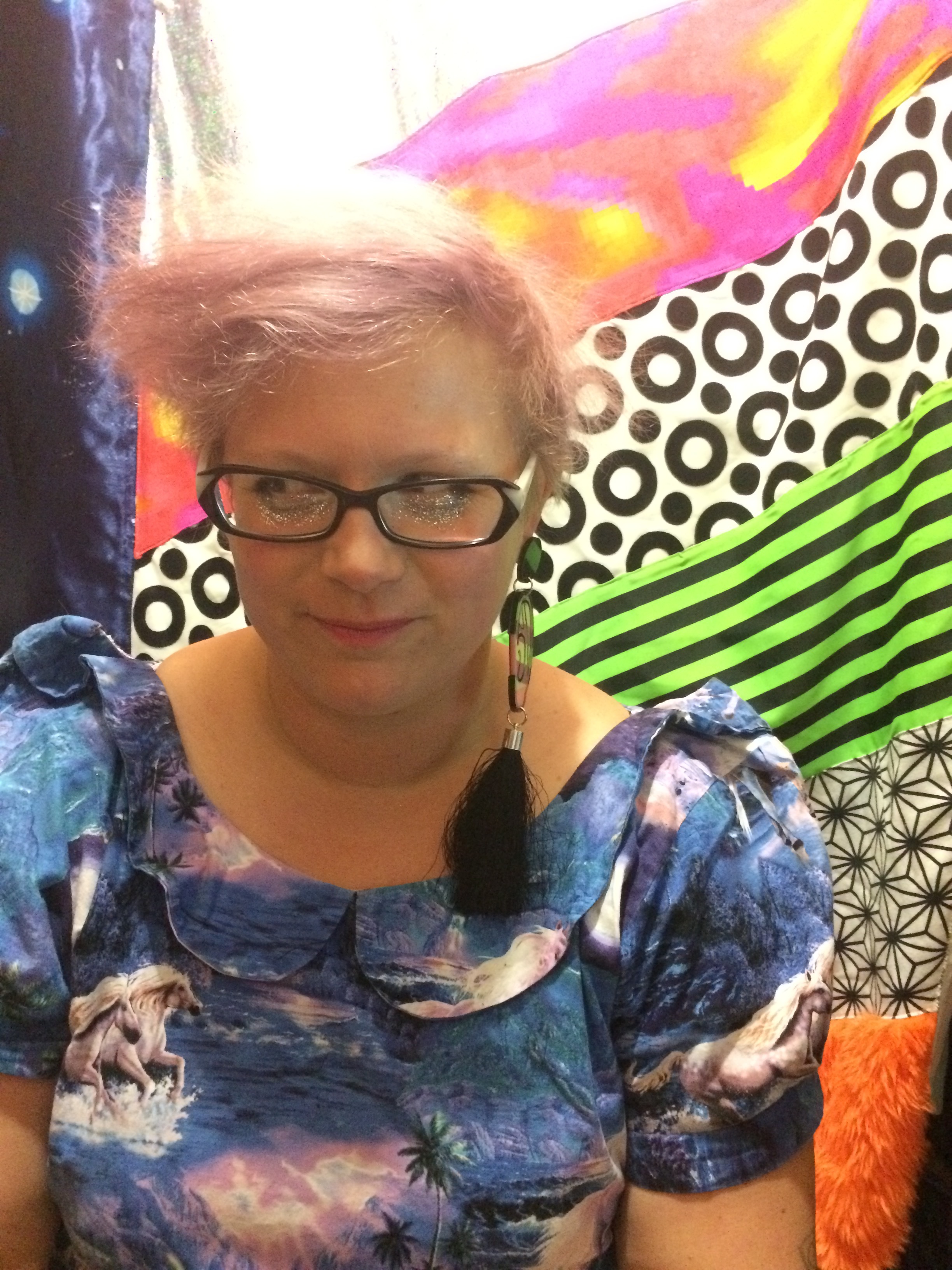 1. This is our first snapshot of an Arts Lab artist in their studio and what better way to kick it off in nearby West Hobart! Julia Drouhin, it is a pleasure to be in one of your creative spaces. I say that, in light of the very nature that is public art- often temporal, changing, interactive and site specific, so I appreciate that you have many spaces for creative thought and experimentation. When you are working from this amazing converted wardrobe space, how do you usually occupy your time here?
I usually work at night when my family is asleep. My wardrobe/desk (designed by my mum-in-law Frieda Beukenkamp) is nearly soundproof and will keep the warmth during Tasmanian winter, surrounded by my curiosities cabinet. My favourite object is a Holmes stereoscope from the 1850's that view two women in a bath in 3D. Depending on the project, I start either by listening to my field recordings to make a new radio piece on my computer or read/reply to the ocean of emails, if I'm not procrastinating. I'm used to preparing my projects by distance but I want to spend some time on site to test things if I can, as the final result is often not what was expected, considering the unpredictable aspect of public space. After 4 months travelling with my family, I can finally digest the vast horizons we travelled through, now cosy in my wardrobe. This tiny office is great to focus on writing or composing music but not big enough to make objects. I also like to make collage or textile objects or just test new ideas. The ideas come usually during outdoor movement- it could be few words on a window, the colour or position of an object, or something that my kids say.
2. You have quite a few things on the go at the moment and since the 2016 Arts Lab, you've been involved in a number of collaborative projects in particular. Did the Arts Lab challenge your creative practice or ignite new considerations that have since led you to where you are now?
SITUATE Arts Lab 2016 provided me a precious time and space to get more confident about my practice, discover new methodologies and explore non-material ideas. Our intentions were questioned by the provocateurs who were caring but pushing us out of our comfort zone. They shared with us their skills and advice from their own experiences. Situations of immediate collaborations with other artists were created to test our limits and generate frictions between our various personalities and backgrounds. Having an opportunity to discuss with other art practitioners and produce projects together was also a unique chance to build long-term relationships, critical sessions and networks. I really enjoyed working with Tom Blake on our 'Biggest pot plant in the world' and I think we will work together again in the future. Since the Arts Lab, I work closely with Harriet Gillies on a project about evaporating women. I've always included collaborative process in my practice but SITUATE Arts Lab confirmed my desire to work with other artists. In May, fellow Tasmanian artist Pip Stafford and I launched Sisters Akousmatica at Long Play in Melbourne with a cassette and digital playlist launch with live performances.
3. One of the SITUATE projects you pitched to our Partner Festivals is titled A.I.R. (Altitude Immersive Radio) which draws on elements of your Ph.D studies about the art of walking and radio performances. Both traditional forms of experiencing place and narrative, they make a perfect duo. What do you love about these components of A.I.R?
I encourage dialogue between performers and listeners to examine the potential fertility of embodiment in radiophonic projects. I realise that my practice is illustrating retrospectively my Ph.D. When I finished it in Paris in 2011, my projects were not yet totally dedicated to radiophonic walks. I feel that being away from what I knew and welcomed by the Tasmanian art community helped me to achieve my dreams. I love trying things I've never done before, getting lost in unknown landscapes, drawing subjective maps, dressing up, gathering groups of people who don't know each other.
My project A.I.R. (Altitude Immersive Radio) is one example of my project. It is a participatory performance in public space based on a radio broadcast made by young writers from Tasmania and South Africa featuring a script inspired by keywords seen in Bloemfontein's streets ("Lost Lover"). The collaboration and exchange between writers from both countries will be materialized in a Radioactive printed book and launched during Vrystaat Arts Festival in July 2018 in Bloemfontein, South Africa, along with a slow walk through the city with community participants. They will wear conductive costumes made locally and will use wind-up radios with balloons as antennas to create a cloud of transmission, an agoradio, and a forest of voices in the radio wilderness.
4. Your Research and Development trip to South Africa in December last year provided an ideal platform for you to engage with local makers, writers and musicians, as well as with the University of the Free State and PIAD (Program for Innovation in Artform Development). How does the local community, in this case, Bloemfontein, influence the process and potential outcome of your project (A.I.R.)?
It was the first time I visited South Africa. When I arrived at the airport, I saw a random balloon released in the air with a message attached to it. I took it as a positive sign! I noticed a strong airwave theme in the public space there. "Air time", which means Internet credit and phone connection but not radio transmission. I would like to engage a dialogue through a new "air time" to be occupied by local voices.
When I gave an artist talk for Sound Threads organised by PIAD and run a DIY FM transmitter workshop, I met local makers and thinkers, as well as the Vrystaat Festival team, who gave me advice on streets permits and local procedure. We did a photo-shoot while scoping adapted public spaces. When I was walking in the streets to get some fabrics, I met Selloane Khalane, an art journalist and Pontsho Disela, a costume designer, who I will work with on the A.I.R. project. Her brand Pontsho Accessories sells "regal African fabric print accessories made for the modern woman who adores herself". She will make conductive costumes with local wax fabric, cords and conductive material for the walkers to extend their balloon antennas reception and interfere with each other and electromagnetic fields in the city.
I met Maritsa Barlow, a freelance percussionist and poet Thuthukani Ndlovu (The Proactivist) with who I will collaborate to create content for my radio script.
I met a local radio station director. I tried my radio balloons in an helium shop but the inflatable sea mattress I wanted to use didn't work because the plastic was too heavy, so I used biodegradable latex round balloons instead.
A.I.R. (Altitude Immersive Radio) would be a unique opportunity to work in a festival context with multiple partners and a broader audience to confront my previous experiences through new collaborations. In this segregated city where 11 official languages are spoken, my project could facilitate a cross-city engagement with citizens of different racial and language groups separated not only economically but also geographically, coming together to help develop social cohesion. There is a great opportunity to develop sound works that speak of the diversity of this city. In Bloemfontein there is no sound art or experimental music scene as understood through a Western perspective, but there is a very active and vibrant poetry, spoken-word, open-mic community who share and discuss social and politic issues. In a post-apartheid time, the racial tension is very palpable from all sides but I had fundamental debate with people from various cultural backgrounds to further understand the social friction that exists there. There is no social security, I saw kids like mine on the roadside trying to sell fresh fruits to cars at the speed bumps. This project could develop national and international collaborations and partnerships, and engage young people in the creation of a collective and public artwork.
5. What does the rest of 2017 entail, leading up to Vrystaat Arts Festival in 2018?
I'm applying for grants and seeking partnerships to finance and develop this community project. As a culturally diverse language speaker, I am more and more interested in the analysis of local communication. This year, I will work with young writers of Tasmania and South Africa to develop a collaborative book with Thutukani Ndovlu. He runs a blog called "Radioactive" where he publishes independent poetry anthologies and digital books via call-out to young writers. He will co-produce a Radioactive book with me on the following theme: "Lost Lover". This was inspired by posters covering walls of streets in Bloemfontein with keywords such as " Financial Problems", "Man Power", "Penis Enlargement", 'Abortion, Safe, Pain Free, Same time", "Pregnancy Problems", printed with bright pink or blue letters of the same font. The radio walk broadcast will release chosen extracts of the Radioactive book with the balloons at the end of the walk during Vrystaat Arts Festival 2018. The printed Radioactive book will be presented during my first solo show at Penny Contemporary Gallery in Tasmania in 2018.
Interview & Images: Ainslie Macaulay.
Recently, Julia Drouhin and all that inspires her, was captured by Women of the Island. Watch here:
https://www.womenoftheisland.com/#/julia-drouhin/